For the biggest impact, you must carefully select the books you read. Luckily, we've done the groundwork for you and picked out some of the best books to consider for 2021 and beyond.
Table of contents:
The story about Bradley Smith
A rousing story is told about one Bradley Smith, a successful entrepreneur in the middle of the last decade. The CEO of Rescue One Financial, a California-based financial services company that at one point grossed $32 million in a year, Mr. Smith can be considered an unequivocal business success. Within three years, his company had grown 1,400%, landing at No. 310 in 2014's Inc. 500.
No one knew that, deep inside, the man was drowning.
It turns out the calm, collected personal finance guru was himself in a dire financial mess. Like the people he spent long hours advising, Mr. Smith had driven himself into the red starting of – you guessed right – a debt settlement company. The more his clients narrated their harrowing stories, the more it reminded him of his own situation.
"As I listened to their stories, at the back of my mind, I kept thinking, 'I've got twice as much debt as you do,'" he says.
Mr. Smith had maxed on his $60,000 line of credit and, worse still, cashed out of his 401k. He had nowhere to turn to. He had even sold the Rolex he bought with his first paycheck. That should tell you just how bad the situation was – he was barely afloat.
"My wife and I would share a $5 bottle of wine for dinner," he recalls. "It was the clearest sign that we were on edge."
Even after humbling himself to get a $10,000 loan from his dad, a self-proclaimed Marxist who raised Smith on such principles as "money doesn't grow on trees" and "never mix business with family," he still couldn't sleep.
More interestingly, he only got the loan on a condition to repay with a 5% interest.
"Sometimes I woke up at 4 am with my mind racing, thinking about every possible scenario. When is this going to turn?"
Smith's business finally picked up after about a year when he began making enough profit to pay his bills. But, it's a story that reminds us of the highs and lows of starting a business. It's not always a smooth sailing.
Many people who desire to run a business eventually give up on the idea altogether – because of the effort (especially mental) it takes to get off the ground. And, of those who manage to get started, only 33% are operational after the 10th year, according to the Small Business Association. From the loneliness at the top to management challenges and the mental strain, it gets overwhelming pretty easily if you lack the willpower to keep pushing.
Some Inspiration Can Go a Long Way
Nothing can take away all the pain and suffering of starting and running a business. Often, it's all about how much you want it.
However, when the going gets tough, one of the best places to get inspiration and perhaps a re-boot, is a good old book. Books are not magic wands. Not even close. But a book is self-educating, self-improving, and induce self-criticism.
Reading stimulates areas of the brain linked to memory, thus help you develop cognitive skills. Every entrepreneur needs cognitive skills to communicate effectively with clients and partners. It also cultivates the theory of mind. A great theory of mind will enable you to understand others' mental states, a crucial tool for any successful business owner. It helps you learn empathy, focusing, distressing, and listening.
Above all, reading is a powerful tool to develop strategic decision making and management skills. Nothing is more important in entrepreneurship than being able to make rational decisions. Almost always, you're required to put your critical thinking skills to the task. Reading will help you learn and sharpen the skills necessary to navigate everyday business obstacles.
10 Must-Read Books for Entrepreneurs and Business Owners in 2021
As you'd imagine, though, you can't just go about reading any book. It's both impractical and unhelpful. For the biggest impact, you must carefully select the books you read. Luckily, we've done the groundwork for you and picked out some of the best books to consider for 2021 and beyond.
They are just ten books, which should be more than enough for the year. However, if you can squeeze in a few more, always feel free to do so.
1. Outliers, by Malcolm Gladwell
One of the very best books you can read before setting out on a business journey or even once you get going, Outliers is the story of Malcolm Gladwell and the inspiration behind the 10,000 Hour Rule. The 10,000 Hour Rule says you need to do something for 10,000 hours to gain authority and become a specialist in it.
What makes Anomalies so outstanding is that it helps you understand what separates the high-achievers from the ordinary. According to Gladwell, business success isn't merely determined by business acumen. Factors that may seem external, including an individual's way of life, family, age, and eccentric encounters of their childhood, are just as crucial.
He contends that circumstance and the measure of time dedicated to whatever you seek have a profound effect on how successful you eventually become. The best part of it is that he drives the point home using carefully selected individual success stories and expertly narrates how the individual achieved their success.
2. Start with Why, by Simon Sinek 
Another book that you may find yourself reading over and over, Start with Why, also addresses why some people are more successful than others. "For what reason are a few people (or groups of people) increasingly creative, more compelling, and more gainful than others?" Sinek wonders.
To answer this question, he digs deep into multiple success stories, especially pioneers in various industries. His key finding? The people with the most significant impacts in their spaces act and impart similarly – the exact opposite of how most entrepreneurs approach business.
Start with Why, however, isn't a book for the faint soul. It is not an impartial book. Instead, it talks straight to facts, which has led to criticism from readers who buy it, hoping for impartiality. The good news, though, is that Sinek offers useful advice throughout the book, complete with examples from past success stories.
Buy Start with Why on Amazon
3. Shoe Dog, by Phil Knight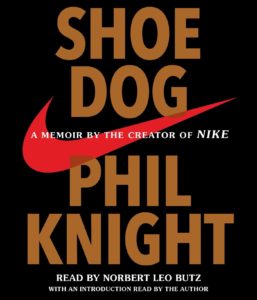 One of the best ways to work your way through business is to copy or learn from what others did. A few people call it stealing, but that's too strong a word. When you observe something and try to use the lessons learned to solve a similar problem, you're merely borrowing.
Back on track, Shoe Dog, allows you to learn from the struggles and challenges of Nike's early days. Written by co-founder and one time CEO of the global sports apparel maker, the book shares some of the ways and strategies Nike used to get out of tough situations.
For instance, you'll learn that Nike started from very humble beginnings, with Knight even borrowing $50 at one point. But, it's not just about Knight's success. Instead, the author also provides an inside scoop of Nike's operations in those early days and emotionally discusses the good and bad decisions they made along the way. Shoe Dog is available in hard copy and digitally on Kindle, as an audiobook, and on CD.
Buy Shoe Dog on Amazon
4. Built to Last, by Jim Collins and Jerry Porras 
Written nearly two and a half decades ago, Built to Last would be a good follow-up of Shoe Dog. It also goes into detail about how successful companies are built. Unlike Shoe Dog, which focuses on just Nike, though Built to Last is about 18 companies. It details the growth of these companies from the time they opened their doors to the present.
The core ideology of the book is trying to find a common element in all these thriving companies. What are some of the things you'll find in all of these industry pioneers? Collins notes that among these unique features are strong enduring principles that go beyond just profits. Call it a cause or purpose if you wish.
The idea is to build a business that can stand the test of time, you can't just think about monetary returns. Sure, profitability is crucial to business growth. But, when the steam runs out, when the chips are down, what will get you back up is the original purpose.
Buy Built to Last on Amazon
5. Leadership is Language, by David Marquet 
In Leadership is Language, former US Navy captain David Marquet discusses the "hidden power of what you say or don't say." From the offset, you can tell that it's not purely a business book. However, when you're in business, language can make or break everything. And that's the message the author is trying to pass.
He explains that leaders mostly lead through words, whether its face-to-face, via emails, annual reports, or company statements. The words you say or don't say will shape the world around you and define how far you go. "If you ask the question differently, you'll get a different answer," he says.
One of the biggest takeaways from the book is "control the clock, don't obey the clock." What this means is that you want to pre-plan, so you don't have to rush. He also says, "collaborate, don't coerce" and "commit, don't comply."
Buy Leadership is Language on Amazon
6. Experimentation Works, by Stefan Thomke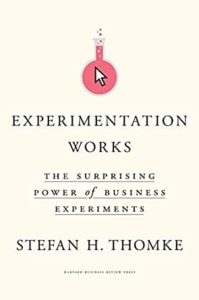 Many of the world's best discoveries happened in a lab of some sort; they were born out of experimentation. Whether it's Facebook or Microsoft, none of them were originally built as the companies they are today. Instead, it took lots of trials and errors in the lab to make them into the juggernauts they are.
That's what Stefan Thorke advocates in his book Experimentation Works. He says, "even the most experienced managers get it wrong. They discover that intuition, experience, and data alone don't work." Running disciplined experiments can lead to the big break you've been dreaming about.
What makes the books so powerful is that Thomke, a Harvard Professor, goes on to discuss how to experiment in business. He lays down how to create what he calls an experimentation organization that regularly carries out experiments as well as discusses best practices for forming a strong hypothesis, setting up control groups, and interpreting results.
Buy Experimentation Works on Amazon
7. Influence: The Psychology of Persuasion, by Dr. Robert Cialdini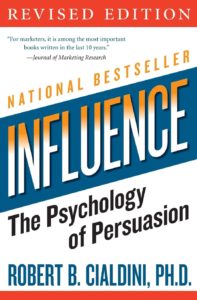 Business sales is about persuasion. It's about convincing strangers that you offer a great product or services and persuading them to try out those products/services. After the first sale, you then need to convince them to stay around by showing them that you have their best interests at heart.
Dr. Robert Cialdini's book, Influence, attempts to explore what would make those people stick. It doesn't provide tips and tricks for wooing customers, but tells you why someone would choose to buy from you and reasons they would become loyal to your brand; why they say "yes" instead of "no."
Dr. Cialdini also believes that success or failure at persuading customers may have something to do with yourself. He argues that understanding what you want and resisting manipulation can be the difference between a successful salesperson and business failure. Most of what he discusses comes from 35 years of personal research. This book is also available in hardcover as well as digitally as an audiobook and on MP3 CD.
Buy Influence on Amazon
8. Deep Work, by Carl Newport 
A common challenge in business is that you're surrounded by so many things you're sometimes overwhelmed. The small business owner, for instance, may need to work as an accountant, lawyer, salesperson, marketer, and HR chief all at the same time. That's before you consider family responsibilities, parental duties, and other life needs.
You can read two excellent books to help you navigate the chaos; Conquer the Chaos by Clate Mask and Scott Martineau and Deep Work by Carl Newport. Feel free to pick either. However, we'll go with Carl Newport's Deep Work as it gives examples of well-known individuals who overcame chaotic situations to become successful.
Newport identifies common detractors and outlines some tried-and-true techniques for overcoming the distractions. You also get access to a "training program" to set you on the path to conquering your chaos. Both Deep Work and Conquer the Chaos are best suited for beginners before too much damage is done.
Buy Deep Work on Amazon
9. The 10X Rule, by Grant Cardone 
Cardone contends that in life, there are four ways to approach any situation. The first is doing nothing about it. The second is to retreat and avoid the situation altogether. The third is to do respond the same way other people are responding. And, the fourth option, which he calls the 10X principle, involves doing things differently. To succeed, often, you need to take the fourth route.
In being different, however, you must understand that there's no absolute in life. Everything is at hand, and everyone dreams of being extraordinary. But very few people live to see that dream because they are not willing to pursue the 10X rule.
Some of the key points he stresses include "never reduce your goals" and "having a success mindset is the only difference between success and failure." He also says that "success never happens by chance." Instead, you must be willing to work 10X harder while "aiming higher and higher."
Buy The 10X Rule on Amazon
10. Dotcom Secrets, by Russell Brunson 
Finally, as the name suggests, Dotcom Secrets is about doing business in the digital era. The book discusses the challenges of marketing in a digital world, focusing on increased competition and technological obstacles. He particularly notes that the "online space is overwhelmed with items like yours," which means that to stand out, you must be different.
With this background in mind, Brunson then focuses on explaining how to set your advertising apart. He clarifies why low traffic might not necessarily be a bad thing and identifies ways to utilize deal pipes to transform adherents into steadfast clients, thus grow your business.
Other aspects of digital marketing covered in the book include product positioning and showcasing. In this regard, Brunson has gone to great detail to explain what works and what doesn't. It would be a great book if you're currently struggling with advertising or marketing content online.
Other Books to Consider
Most of the books on this list were written at least a decade ago, but remain relevant and incredibly beneficial. They are also best sellers on various platforms. The 10X Rule, for instance, was an Amazon Underground Bestseller.
Additionally, these books have been read pretty much everywhere in the world and by many successful business leaders of the past decade. So, as you pick up any of them, keep in mind that you're in great company.
As mentioned at the beginning, though, you can read many other books for inspiration and sharpen your business acumen. A few great options that just missed out on the list include The Personal MBA by Josh Kaufman, which discusses mastering the art of business and The Magic of Thinking Big by Dr. Schwartz, which discusses how to distinguish your reasons for disappointment and develop the right mentality to exceed expectations.
No Filter: The Inside Story of Instagram by Sarah Frier and Always Day One: How the Tech Titans Plan to Stay on Top Forever by Alex Kantrowitz are other excellent reads.