The "car" has improved tremendously over the years. As the earliest successful attempt at automobile mass production, the Ford Model T was a massive success when it hit the market at the beginning of the 20th century. Its popularity led to a 20-year production run (1908-1927), which stands as one of the longest in history. Thanks to the Model T, the automobile industry embraced assembly lines and interchangeable parts. Moreover, vehicles could finally be marketed for a wider market than just the rich and famous.
However, consumers gradually began asking for more than just one reliable, budget-friendly option. Emerging markets developed, new technologies took hold, and more players entered the industry. These forces propelled a century of tremendous leaps in the auto sector.
Today, the automobile industry is in a new phase of transformation. In fact, experts are calling it the most disruptive time for automobiles since the Model T era. The next two years are set to bring significant changes that will define the outlook of the industry for the next decade.
If you are in any way interested in automobiles, it pays to know what is driving this revolution. In this post, we look into the top trends in the auto industry. By the time you reach the end, you will have gotten a rather decent perspective on how the sector will be in the next ten years.
1. "Uberisation"
The 'Uberisation' of car rides is a rapidly growing auto industry trend. 15 million ride-hailing trips happen globally every day. This number is expected to rise to 97 million by 2030, expanding the sector's valuation from $36 billion to a whopping $285 billion.
Several key factors have driven the prevalence of the ride-sharing and ride-hailing business model. These include cost, convenience, traffic, and environmental concerns. Industry statistics show that this growth is yet to impact car sales significantly, primarily because hailed and shared rides still constitute a small percentage of the total number of rides.
That said, ride-hailing and sharing will inadvertently tip the scale in the next few years. Consumer mobility behavior is evolving. Now more than ever, customers are demanding fit-for-purpose solutions.
As mobile apps continue to penetrate the market, established vehicle bases like cities and suburbs are bound to experience a decline in private vehicle ownership. By 2030, a staggering one out of ten cars sold will potentially be a shared vehicle.
This trend will partly be offset by increased sales in shared vehicles that need more frequent replacement due to their higher utilization and the related wear and tear. Nevertheless, the annual growth rate of global car sales is expected to drop by around 1.5% over the next ten years.
2. Autonomous driving
Thanks to the rapid advancement of smart technology, innovative manufacturers have been taking considerable interest in autonomous driving and the numerous growth opportunities it presents. The young market is already estimated to be worth more than $50 billion, and its value is projected to reach $556 billion by 2026.
Autonomous vehicle development relies heavily on deep expertise in emerging technologies like artificial intelligence and machine learning. Consequently, automobile manufacturers are increasingly keen on partnering with digital tech companies or establishing digital tech divisions of their own. Just last year, Toyota partnered with Nvidia to create an alliance that will be behind the end-to-end creation of the manufacturer's future self-driving cars.
Admittedly, the adoption of autonomous driving is not without its challenges. The existing forms of advanced driver-assistance systems (ADAS) have so far uncovered factors like pricing, customer understanding, and safety/security as the key inhibitors of market penetration. Infrastructural development and government regulations may also represent additional hurdles for self-driven vehicles.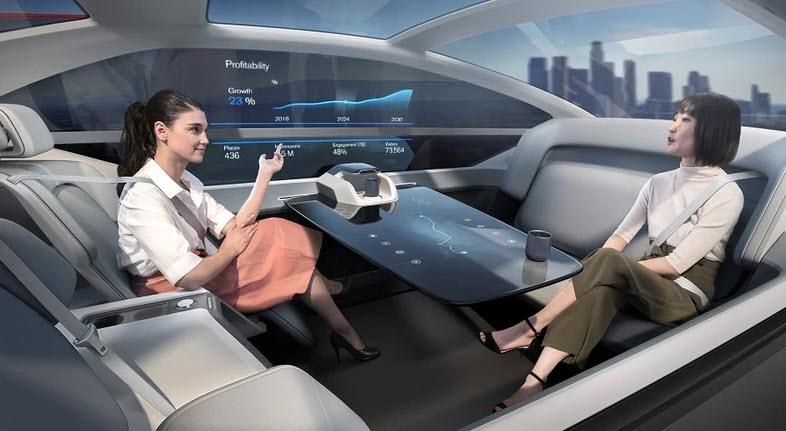 Nonetheless, the industry is keen on addressing these challenges, mainly because of the value that autonomous vehicles promise for both customers and manufacturers. Believe it or not, it is entirely possible that autonomous cars will account for more than 15 percent of the total passenger vehicle sales globally in 2030.
3. Data and software
Today, studies place the automotive industry as the second most data-driven sector in the world. Auto manufacturers are increasingly using mobile technology to gather tons of data about drivers, routes, destinations and traffic patterns. Systems even exist to tell you when your car needs maintenance.
As cars become smarter, user data and software will continue to be a critical aspect for the auto industry. Manufacturers will embrace computer programs to deliver smart solutions for collision avoidance, emergency notifications, car diagnostics, and remote monitoring. As a result, software competence will become a crucial differentiating factor for automobile players.
Experts estimate that vehicles in the near future will have more than 200 million lines of code representing data. In comparison, Facebook servers have about 50 million lines. It is no surprise that KPMG expects future car manufacturers to consider data monetization as a second valuestream.
4. Connectivity
Smart connectivity may have started with the smartphone, but thanks to improved network infrastructure and the growing IoT industry, it has expanded into the wider consumer electronics market. Technology has turned physics-driven machines into complex supercomputers that can talk and think for themselves.
For automobiles, modern connectivity solutions have enabled convenience features like hands-free calling, Bluetooth pairing, and GPS navigation. With more advancements in communication systems, cars will soon be able to create wireless networks to connect with various forms of traffic infrastructure, including other vehicles and traffic lights.
The emergence of Cellular-V2X, which combines vehicle-to-vehicle and vehicle-to-infrastructure connectivity, will accelerate the adoption of automobiles with telematics units that enhance safety and enable various infotainment and connectivity services.
Governments across the world are looking to mandate the use of V2X. This trend will dramatically change the way cars behave on the road. It will also complement autonomous driving by offering knowledge of a vehicle's environment that is superior to that gathered by sensors and vision-based technologies.
5. An increasingly tech-savvy market
As in most tech-centered industries, the automotive sector is bound to be driven to a significant extent by younger, tech-savvy generations. By contrast, the current middle-age consumer tends to look at new technology solutions with some skepticism, at least initially. So, with vehicles looking to rely a lot more on electronics and software, future sales will depend heavily on the percentage of the population that has a digital orientation.
This auto industry trend is likely to take shape quicker in well established automobile markets like the US, Europe and China, where innovation will enjoy conducive cultural and political conditions. In the next several years, the number of "traditional" automobile customers will be in a steady decline.
6. The go-green revolution
Environmental concerns are tremendously impacting the automotive sector. The relentless calls for more environmentally-friendly modes of travel have led to the rapid popularization of reduced-emission hybrid and electric vehicles (EVs). The number of EVs on the road surpassed 5.5 million in 2019, which was a 64 percent increase from the previous year.
In the coming years, stricter emission regulations and conducive infrastructure will create a stronger momentum for electrified vehicles to penetrate the market. The speed of adoption will be greatest in developed markets, which are most likely to have enough charging infrastructure, regulatory push and consumer incentives.
Improvements in battery technology are particularly eyed as the defining proponent for the mainstream adoption of electric vehicles. Over the next decade, battery costs are expected to drop to as low as $150 per kWh, effectively bringing the cost of an electric vehicle to par with that of conventional vehicles. This fear will likely be the most impactful catalyst for market penetration.
7. Healthy competition
Although the automotive industry has experienced a fair share of tech disruptions in recent years, it has lagged far behind sectors like mobile handsets and computers. Case in point, only two new players have featured among the top 15 automobile OEMs over the last 15 years. In contrast the mobile phone sector has had 10 new players within the same period.
With the continued shift to mobility as a service, traditional car manufacturers will inevitably be forced to change their game and compete on more than just the automobile front. New service providers like Uber and Zipcar, emerging OEMs like Tesla, and tech giants like Google and Apple will increase the complexity of the competition in the industry.
Meanwhile, traditional players that are currently feeling the squeeze to reduce costs and become more efficient will embrace out-of-the-box strategies. This trend will likely see new forms of partnerships with tech players outside the automobile scene.
8. Cutting-edge manufacturing
Manufacturing, in general, is facing tremendous disruption in the wake of digitization. More manufacturers are embracing lean and agile processes every year to increase both output and efficiency.
Now, another frontier is on the horizon. Dubbed Industry 4.0, this new phase of manufacturing promises to use emerging technologies like artificial intelligence, machine learning and Big Data analytics to provide unprecedented opportunities for increasing productivity.
Industry 4.0 is the information-intensive transformation of manufacturing (and related industries) in a connected environment of big data, people, processes, services, systems and IoT-enabled industrial assets with the generation, leverage and utilization of actionable data and information as a way and means to realize smart industry and ecosystems of industrial innovation and collaboration.
The auto industry constitutes a significant part of the global manufacturing scene. Therefore, you can accurately conclude that Industry 4.0 strategies will sip into the sector as well. The smart vehicles of the coming years will need new solutions for project execution.
Automotive leaders are in agreement that using software in vehicle development can triple manufacturing speeds. Currently, BMW is using digital simulations to reduce the number of prototypes it makes during a car's development cycle. 3D printing is also proving to be a gamechanger in manufacturing, especially now that metal 3D printing is becoming mainstream.
9. Blockchain
Blockchain may have started as the infrastructure behind Bitcoin, but over the years, it has found use in a wide array of industries. Today, blockchains have been developed to replace conventional systems across numerous sectors. For the auto industry, the decentralized, transparent and immutable blockchain presents solutions for several potential challenges of the future smart car.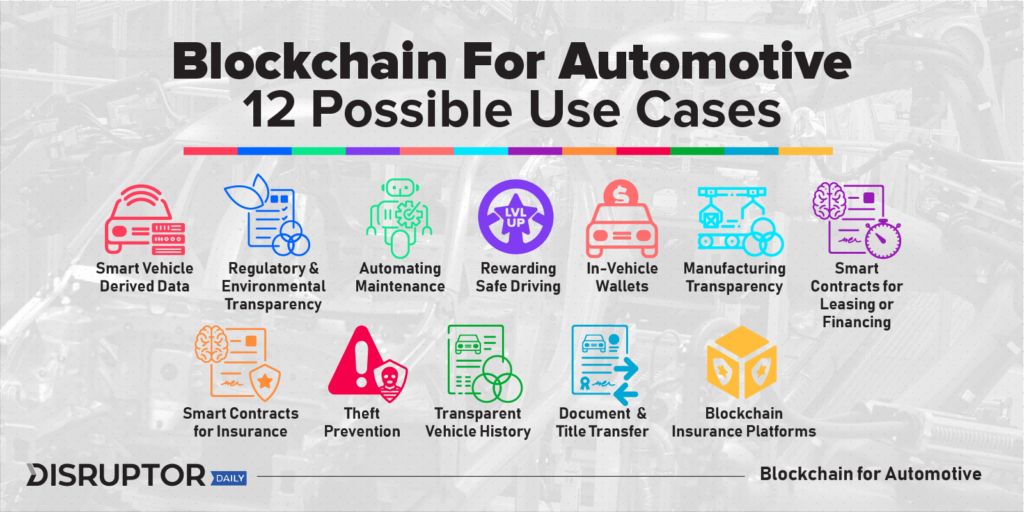 For starters, blockchain offers a more acceptable way for smart vehicles to connect with each other, as well as with clients and service providers. Decentralized node discovery can enable peer-to-peer interaction among owners of autonomous vehicles. With blockchain, customers may soon be able to rent their self-driven cars securely without the involvement of third-party dealerships.
Additionally, the decentralized nature of the blockchain eliminates a single point of failure. This feature makes it a more secure option to facilitate smart vehicle connectivity than conventional central-server networks.
Global automobile industry leaders are keen to explore blockchain technology. Toyota, for instance, is collaborating with MIT Media Lab to develop blockchain-based infrastructure for secure data exchange, car-sharing transactions, and usage-based insurance. You can expect more manufacturers and automotive tech developers to join the blockchain bandwagon in the coming years.
10. Covid-19
The Coronavirus pandemic has taken a devastating toll on the automobile sector. Factories have paused production and sales have slumped. Releasing their Q1 2020 results, car manufacturers revealed the extent of damage that Covid-19 has caused and how they have revised their full-year plans to better position themselves for the new normal.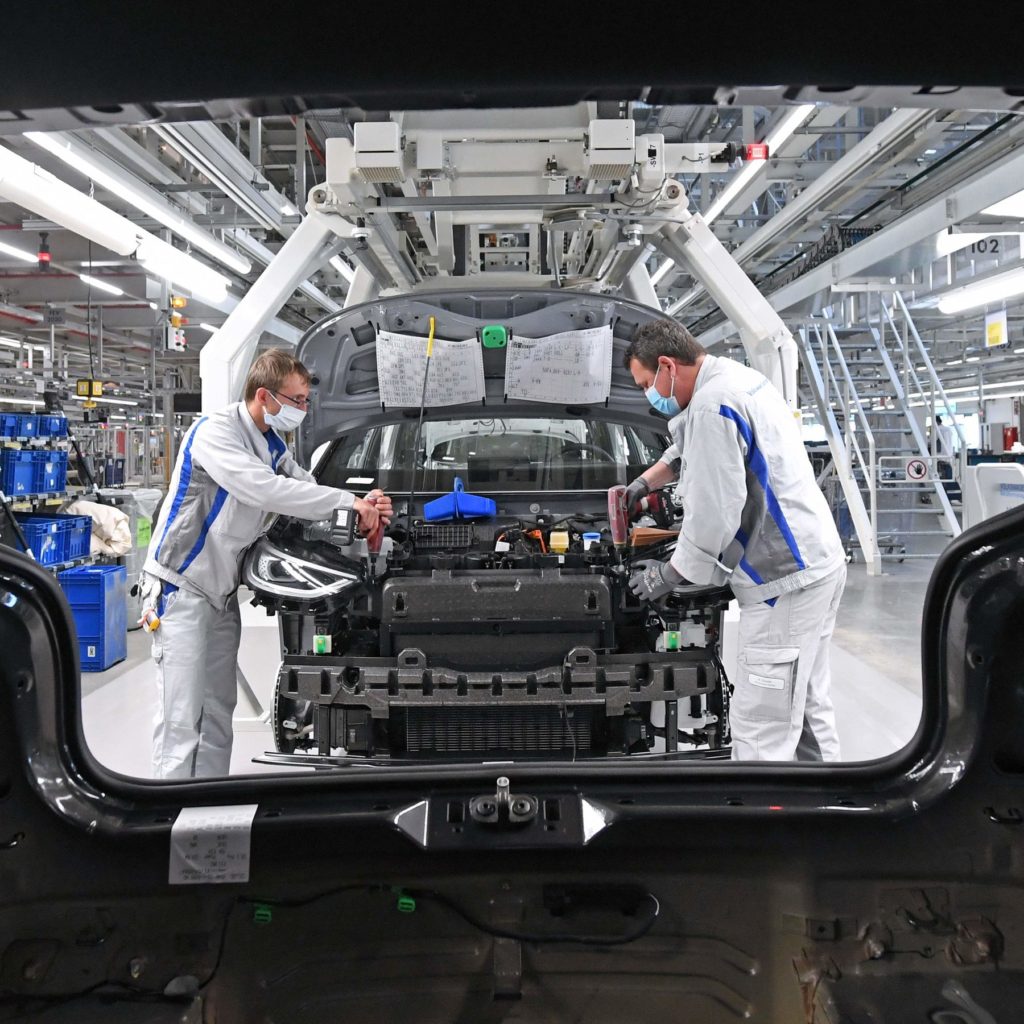 That said, the need for R&D investment still remains a priority for the industry. Analysts expect manufacturers to continue pumping resources into what they consider as potentially future-proof projects. Where OEMs spend their money will expose which technologies the industry perceives as essential for the future.
As companies review their budgets, long-term investment in electric vehicles seems set to continue. The increased regulations against emissions, coupled with the significant progress that has already been made in the space, makes electrification difficult to shelve.
On the other hand, other ambitious technologies, such as hydrogen-powered vehicles, seem less certain. In April, Daimler announced it was concluding its development of fuel-cell technology for automobiles.
Manufacturers will likely also re-evaluate the viability of autonomous technology. With social distancing becoming increasingly vital in the wake of the Coronavirus pandemic, the need for self-driving cars appears to make a lot of sense.
Finally, the changing customer demand due to Covid-19 will also influence the future of the auto industry. A recent Ipsos survey of car buyers in China revealed that the top most-preferred features in a new car were health configurations, such as interiors with antibacterial materials, air conditioners with germ filters, and health-monitoring systems for passengers.
Covid-19 is redefining developments at all levels of the auto industry. After the pandemic, the technology left in the market will only be the result of projects that were deemed necessary.
Looking ahead: Are you ready for a disrupted auto industry?
The automobile industry trends above are shaping the future automotive industry to be a lot more granular than it has been in the past. Even for industry leaders, growth across traditional markets will no longer be a guarantee.
If you are in the automotive sector, you might be disappointed to know that you cannot predict the future of the industry with any certainty. Nonetheless, you can make some strategic moves to prepare for the inevitable disruption.
Prepare
Success in the future will require you to anticipate market trends and respond to them sooner. You will need to analyze consumer preferences proactively and realize the similarities across city types.
You also need to pay attention to the evolving demographics in your target markets. The increasing urbanization and the unpredictability of emerging economies will continue to make it challenging to predict sales volumes. New models of scenario planning are needed to identify and adopt viable business models.
Adapt
As an entire industry undergoes transformational changes driven by the trends above, companies must realign their internal processes to give them the best shot at success.
Your strategy needs to recognize software as the key enabler for innovation, and your R&D model must be able to keep up with the demand for more frequent software updates. You must then take the necessary steps to acquire the right expertise, either by building it internally through new hires or outsourcing to external vendors.
Differentiate your product
To grow your share of the automotive profit pool, you need to make the right moves for making your product or service stand out from the competition. This achievement will largely depend on how quickly you evolve from being a hardware provider to being a mobility services provider.
Pursue product differentiation by offering an exciting digital end-to-end user experience driven by customer needs and preferences. Take a cue from software companies in the handset space. Your product must be superior, not just in the way it looks or drives, but also in the way it interacts with your customer.
Embrace partnerships
The industry is changing from competition among traditional players to new competitive interactions with tech driven companies. All industry participants, be they OEMs, suppliers or service providers, must form partnerships across and beyond the auto sector.
So, regardless of your position in the industry, cooperation and partnership need to be key components of your strategy for the future. Joint ventures will enable you to benefit from new innovations and cost saving initiatives.
Partnerships can also be more effective at engaging governments to implement regulations that support new mobility solutions. This benefit can extend to joint efforts for customer education on the benefits of new technologies.
The automotive industry is undergoing disruptions that pose both opportunities and challenges. Start laying down your strategy now, and not only will you stay ahead of the change, but you will also benefit from it.