As companies expand their use of various work-from-home software, there is also a growing concern about what kinds of data their boss can access. Depending on the type of work you do, some of your activities may be exposed, and we'll take a look at what they are.
The new version of the Microsoft 365 software suite, which includes Teams, has been used extensively during the coronavirus pandemic. It also includes a tool for tracking user productivity. Most of the world's workforce uses Microsoft 365 for their day-to-day business needs.
Tracking activity on these services can help companies analyze employee productivity and make business decisions. To track that employee productivity, Microsoft offers a tool called Workplace Analytics, although many critics believe that this AI-driven service may not be welcome among employees as they consider it an invasion of privacy. So what all can your boss use these tools to find out?
Microsoft Workplace Analytics
Workplace Analytics displays aggregate data on how teams use the apps included in their respective suites – details such as how much time the team spends in specific apps.
Microsoft received a lot of criticism for previously allowing managers to go to a specific user and track their activity, however, it has since removed this option. However, this doesn't change the fact that Microsoft 365 supports third-party tools such as Prodoscore, which "tracks each employee's activity and calculates their score based on their activity levels".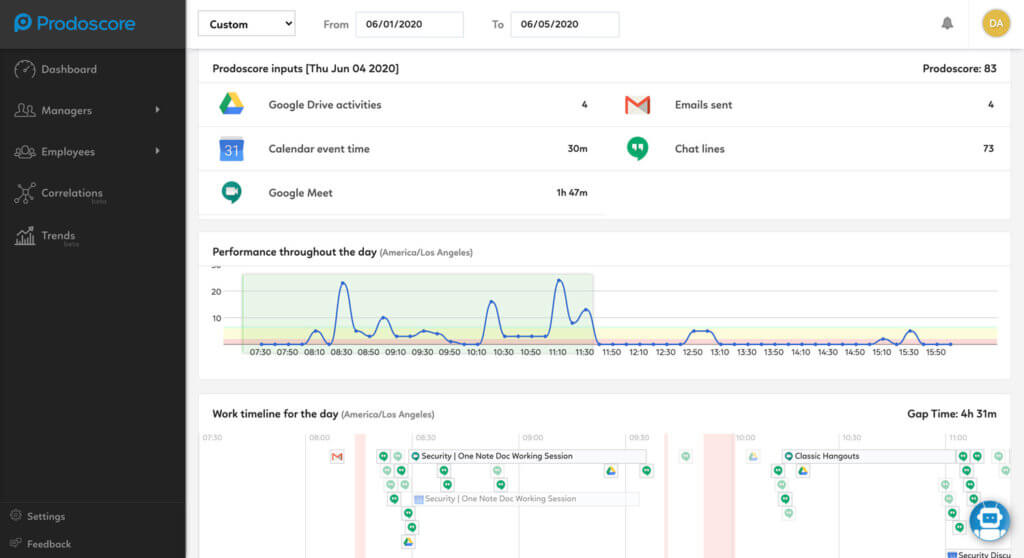 Microsoft Teams
Teams is a comprehensive tool from Microsoft that can replace not only Skype for Business, but also other communicators used in the corporate environment.
Microsoft Teams, like Skype for Business, collects three types of app data: what it calls census data, usage data, and bug reporting data. Usage data collects the number of messages sent, calls made and meetings connected. They also track when things go wrong in order to improve the service.
So if your Microsoft Teams account is managed by your company, your employer can track chats, calls, meetings, total time online, and how long you've been away from your computer. They can also track your location through location sharing to see whether or not you work from the comfort of your home.
There is no easy way for employees to see on their own what sorts of capabilities an employer account has; you need to speak with an IT administrator for this information.
Your employer can also record conversations, record calls and monitor your camera when you're in a meeting. This is done using the UpdateRecordingStatus API tool, which can be used by administrators on Teams. The good news, however, is that Teams will notify all meeting participants of the recording via a banner or audio notification.
Can Microsoft Teams detect background applications?
If you use a personal computer for work, Teams can't see what programs and applications you have running on your device. Simply put, it can only monitor what's happening within Teams. However, if you use a company computer, your boss may have installed a tracking program on it specifically to monitor all your activities. In some cases, he may not even tell you that your company computer contains something like this.
So as a precaution, don't use your computer for anything personal, no matter how mundane it may seem.
Who sees your conversations?
Your employer can set up e-discovery to track certain keywords in chat. But if you use your company email, your supervisor probably keeps a log of all your conversations. He or she can also ask the Teams administrator for access to your account at any time. However, it's highly unlikely that any of them would keep such detailed monitoring.
Can your teacher monitor your messages on MS Teams?
If you're a student and you're wondering if your professors can check your private messages in Teams, rest assured that they can't. As long as you are using a personal Teams account on your computer, you have nothing to worry about. However those who have the Administrator status, such as teachers who started the conversation and those who are Global Administrators, may readily access and view your private discussions on Microsoft teams.
Where is your data legally stored?
Just finding where Microsoft actually has its datacenters is a real challenge.
Teams operates across the world, and across jurisdictions with different standards for how data should be handled. If you want to see where your individual data is physically held, you can visit the Microsoft 365 admin centre, then click Settings > Organization profile, and scroll down to Data location.
Microsoft is utilizing following security measures: 24/7 monitoring of the datacenters, multi-factor authentication including biometric scanning for datacenter access, separation of the internal datacenter network from the external network. Faulty drives and hardware are demagnetized and destroyed.
Can you defend against this?
Regardless of whether you are an individual user or the owner of a team, there are many privacy settings you can go over for peace of mind. For example, you can go into your Windows 10 settings and block the app from accessing your camera and microphone (you'll need to enable permissions again once you're actively participating in a meeting, of course).
One of the first things many people do on WhatsApp is to turn off read receipts, so they don't feel pressured into responding to personal chat messages as soon as they see them. You can do this in Teams, too: go to Settings > Privacy and untoggled the "Read receipts" radio button for some peace of mind and space to think.
Another solution is to also open the app's settings and block your contacts, disable read receipts, and much more.
You can also ask your employer or HR department for details on whether and how they accept this data. Currently, most people in smaller companies don't have to deal with such topics, but it's possible that the situation will change in the future.
The Difference Between Spying and Recording Activities
Taken into account the current context, the Work-From-Home system is a reality we must adapt to. Employers have the right to track your work-related activities during working hours.
But they're not entitled to use Teams, access your microphone and camera or use other means to check what you're doing outside working hours. That's called spying.
The organizations indeed have accessibility to the chat and dialogue. On the other hand, Microsoft Teams do not monitor private audio calls.
Examples of what your employer can see about you
Forbes shared some of the data points employers can see about individual workers
Days sent email: Number of days the user sent an email in the last 28 days.
Days used Teams chat: Number of days the user sent a chat message on Microsoft Teams in the last 28 days.
Days in Outlook (desktop): Number of days the person was active on Outlook in the desktop platform.
Days in Outlook (web): Number of days the person was active on Outlook in the web platform.
Days in Outlook (mobile): Number of days the person was active on Outlook in the mobile platform.
Days read content: Number of days the user has accessed content (files of type Microsoft Word/Excel/PowerPoint/OneNote or PDF) on OneDrive or SharePoint in the last 28 days..
Days created content: Number of days the user has created, modified, or uploaded content (files of type Microsoft Word/Excel/PowerPoint/OneNote or PDF) on OneDrive or SharePoint in the last 28 days.
OneDrive: Boolean value indicating if the person had access to OneDrive for at least 1 of the last 28 days.
SharePoint: Boolean value indicating if the person had access to SharePoint for at least 1 of the last 28 days.
Meetings attended: Number of online Microsoft Teams meetings in the last 28 days
Billion Dollar Surveillance
The market for employee performance tracking has been growing rapidly in recent years. Many startup companies are taking advantage of it. By 2023, the sector could grow to four billion dollars globally. It is currently worth about half that, according to analyst firm Market Research Future. Particularly in the wake of the pandemic, when many companies have had to agree to mandatory home offices, such tools are becoming increasingly popular.
More than a million companies worldwide use Microsoft 365, with more than 650,000 in the United States alone.