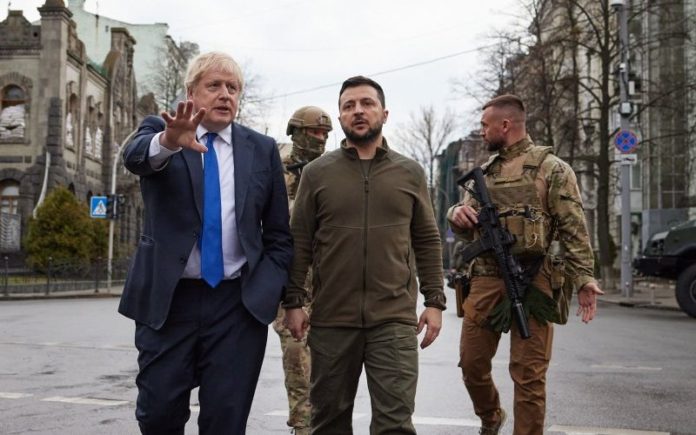 U.K. Prime Minister Boris Johnson secretly boarded a train to Ukraine's war-torn capital Kyiv on Saturday to meet with Ukraine President Volodymyr Zelenskyy.
Johnson pledged more support amidst Ukraine's ongoing war with Russia. Both leaders also walked and toured through the streets of the capital city that has been one of the targets of the Russian offensive in the past weeks.
The Prime Minister took the Ukrainian Railways train on Saturday through to Kyiv from Poland as a show of "unwavering support" to Ukrainians.
"We're setting out a new package of financial & military aid which is a testament of our commitment to his country's struggle against Russia's barbaric campaign," Johnson posted on Twitter.
The British Prime Minister also promised an additional $130 million in aid to the war-torn country, including anti-aircraft and anti-tank missiles, as well as armored vehicles, to help protect Ukraine in what he claimed is an "inexcusable conflict."
The United Kingdom will also send 120 armored vehicles and anti-ship missile systems to Ukraine to assist the country.
"It is a privilege to be able to travel to Ukraine and meet President Zelenskyy in person in Kyiv today. Ukraine has defied the odds and pushed back Russian forces from the gates of Kyiv, achieving the greatest feat of arms of the 21st century. It is because of President Zelenskyy's resolute leadership and the invincible heroism and courage of the Ukrainian people that Putin's monstrous aims are being thwarted," Johnson said.
The U.K. government in a statement said they will also provide more economic assistance to Ukraine, promising an extra $500 million [£385 million] in World Bank credit, bringing the total loan guarantee to $1 billion. This, aid according to Johnson, together with the £394 million in financial aid supplied by the UK, will help to secure the continuation of critical humanitarian services for Ukrainians.
"As part of our commitment to the country's economic stability, the UK has responded to the Ukrainian government's request by liberalizing all taxes on imports from Ukraine and giving customs easements."
Meanwhile, Zelenskyy's team hailed the UK for its assistance throughout their ongoing defense against Russia.
Over the weekend, the Ukrainian President had several calls with numerous leaders that including EU President Ursula von der Leyen, Canadian Prime Minister Justin Trudeau, and German Chancellor Olaf Scholz.
The EU and Canada on Friday recently raised $10 billion to aid the people of  Ukraine through the Stand Up for Ukraine initiative. Zelenskyy also thanked Trudeau for pledging an additional CAD$1billion and  CAD$500 million for defense support.

In his talks with Germany's Chancellor Scholz, Zelenskyy said both of them emphasized that all perpetrators of war crimes must be identified and punished. They also discussed anti-Russian sanctions, additional defense, and financial support for Ukraine.