The exit of a tech company is often perceived as somewhat an elusive and grandeur event.
For the stakeholders actually involved in the process, not having an exit strategy can prove to be detrimental or drag on the race for years.
Often the best course of action for tech founders is to sell their companies to the right people at the right time, so they can go on to pursue other ventures, or simply take that vacation they've been holding off for a decade. Easier said than done, right?
However, one of the major problems that entrepreneurs face is the lack of planning and strategy around their own exits or long-term plan.
"Most entrepreneurs have their energy tied up in the day-to-day processes, that they neglect to think about the exit," says Martijn Van Der Hoeden, a tech entrepreneur and M&A advisor who sold his own software company, Assistance Software to Unit4 in 2017, a company that has over $600 million in turnover.
Martijn gave us some valuable pointers gathered from nearly two decades of experience in the tech industry, as well as through selling and buying his own companies on how entrepreneurs can, too, successfully settle the best deal.
Interviewer: Can you describe some of the major challenges tech entrepreneurs face with exits?
Martijn: One of the major challenges of entrepreneurs is that they never think about their exit. They're always so busy with the daily operations of growing their business, that they neglect the exit strategy.
When it comes to any kind of technology company, the exit strategy is crucial. This is because everything in life is uncertain.
There's going to be a point in time where there will be an exit or a transfer of shares. For example, when you're dying or deceased, you need to transfer this to your family.
It's similar to having an asset allocation plan when you die, you need to arrange what's going to happen to your business.
Typically, entrepreneurs will build the startup to the scale-up phase. If the company makes it to the scale-up phase, in most cases, it requires a different kind of management and other skills. The skill set of an entrepreneur to build something from zero are completely different skill sets than scaling up a company from $5 to $50 million.
Many entrepreneurs don't think about that concept. Suppose you're somebody with a certain energy span. In that case, it's important you exit at the right time where you still have enough energy left to last through the transfer process to the new owner.
Interviewer: What's your best advice for entrepreneurs that are looking to connect with VCs for funding?
Martijn: When entrepreneurs think about revenue, they should focus on recurring revenue instead of one-time purchases. Even if you make $50,000 less in a specific year, if the remaining $50,000 is recurring revenue, that's worth six times more than making $100,000 in one-time revenue. Most business failures are a result of one-time revenue.
In other words, look at your company from a long-term perspective and from an equity value perspective rather than the short term of recruiting this big client. 
Interviewer: How can entrepreneurs use exits as a de-risking strategy?
Martijn: An exit doesn't mean you have to relinquish all your equity. Sometimes entrepreneurs will look for another venture investor to grow a company faster.
Typically, what you see today is that it's very easy to start a company. However, Still, it's not very easy to grow a company. Statistically, 98% of all the companies worldwide are under $1 million in revenue and have less than eight employees.
Suppose you want to belong to that 2%, which goes over the $1 million revenue, then you are playing the champions league. Not all entrepreneurs can play in the champions league.
There are still many tech founders who neglect their sales and marketing strategy. They neglect to reserve a budget for digital presence and to have a professional sales team and marketing team. In many cases, we see a lot of founders with tech backgrounds that are not equipped to manage or have the skills to sell. That's at least as important as having a great product.
Interviewer: How do you think these types of founders get stuck?
Martijn: If you don't change anything and you have the same people, and you think suddenly, the company will change and it will grow— that's just a false illusion.
That's why at No Monkey Business, we give founders a mirror and reflect back to them what's really going on. Many entrepreneurs and owners don't have a team around them that will give them an honest and bold opinion about their company. 
Sometimes the biggest bottlenecks for growth are the founders themselves because they're unable to build this company to the next level. 
That's where we come in and help the company prepare and work towards its dream exit. We look at it from a simple perspective and ask, what is your mission?
The mission needs to be very clear: What is your target market and the geographic spread that you want to achieve? What is the product, and what are you achieving for your clients with that product or services, or a combination of those things? 
When that mission is very clear, then we look at if the current proposition will help you to achieve the mission. What you often see is that a company grows year after year and acquires a couple of bigger clients. Then, they're asked to build specific features in their technology platform. 
"If the company doesn't know their product and roadmap well, it may lead to a lot of diversion from the mission."
That's why we host workshops to help companies brainstorm their current mission. Is this really what you want to achieve? Is the mission clear to everybody? You need to be very precise about what you want to achieve. 
Once the company mission is crystal clear, then we move on to the proposition. These are things like the price model, go-to-market strategy, and the total addressable market.
We look at your digital presence, the team, the code, and the delivery model. If it's scalable, you can run projections to see how long it will take to grow your company from $2 million to $5 million. 
But if it takes six months or 20 months to implement some software, then you know that in order to achieve it, the delivery model also needs to be scalable. You can achieve that in different ways.
Out of the workshop, our participants get an action plan which involves refining the proposition, go-to-market strategy, and delivery model strategy. We build a business plan for the next two to five years. We are looking for a next phase, the next investor, or a new owner, depending on the ambitions of the business owner.
Interviewer: What is your strategy around the actual exit and making the perfect deal?
Martijn: Our main goal is the exit, but the exit for the best price in the market. If you look at the average multiple in the Netherlands and Europe, it's six to eight times. Our average multiple is 14.3 times at this moment.
Think about it this way: if you dance in a club the first night and you fall in love a little bit, you're not going to marry that person. You want to experience multiple partners to make that important decision in your life. It's very flattering when somebody knocks on the door, but you don't want to give too much information away from the start.
In most cases, it's a competitive strategic party. You cannot compare offers because you have only one offer.
What we achieve with our clients is that we make sure that they're ready for the exit. We make a fantastic information memorandum with the financials, projections, and a teaser letter. We send a teaser letter out to our network, which contains over 6,000 buyers that are actively looking for technology companies. Of those 6,000 buyers, a percentage is interested. They sign the NDA.  After the NDA signing, we send out the CIM (confidential information memorandum). From there, we schedule management team meetings.
The perfect ditch deck
The pitch contains not more than 10 slides.
What's the mission of the company? 

What's the current landscape and the problem that you're solving?

What's your vision on that? 

What is your solution?

What's the price?

What are your track records?

What are the financials?
That's what everybody wants to know and not 40 slides. Then when we do those pitches to buyers, we make sure that we are in the lead for the plan and schedule of the whole process.
If the buyers are interested we ask for a nonbinding offer or letter of intent and most importantly, we put a deadline on it.
The 3 ingredients in a non-binding offer:
Enterprise value deal structure 

Post-acquisition structure with the company and the new owner 

Plan of Execution
Then we can compare apples with apples, and we make a choice. The due diligence process starts, and all the hard work from the previous steps is finally paying off. In most cases, we expect legal, financial, tax, and tech due diligence. The legal documents are made, such as the SPA (share purchase agreement), and the EV to equity bridge is calculated.
This process is very intense and feels like a marathon for the owner. We support our clients, but it is stressful until we close the deal. I'm proud to say that we have a 98% track record of closing.
We're involved from the intake assessment all the way to the final exit phase until the bottle of champagne opens.
Interviewer: Is there a main reason you decided to start an educational program as opposed to pursuing traditional venture investing in companies?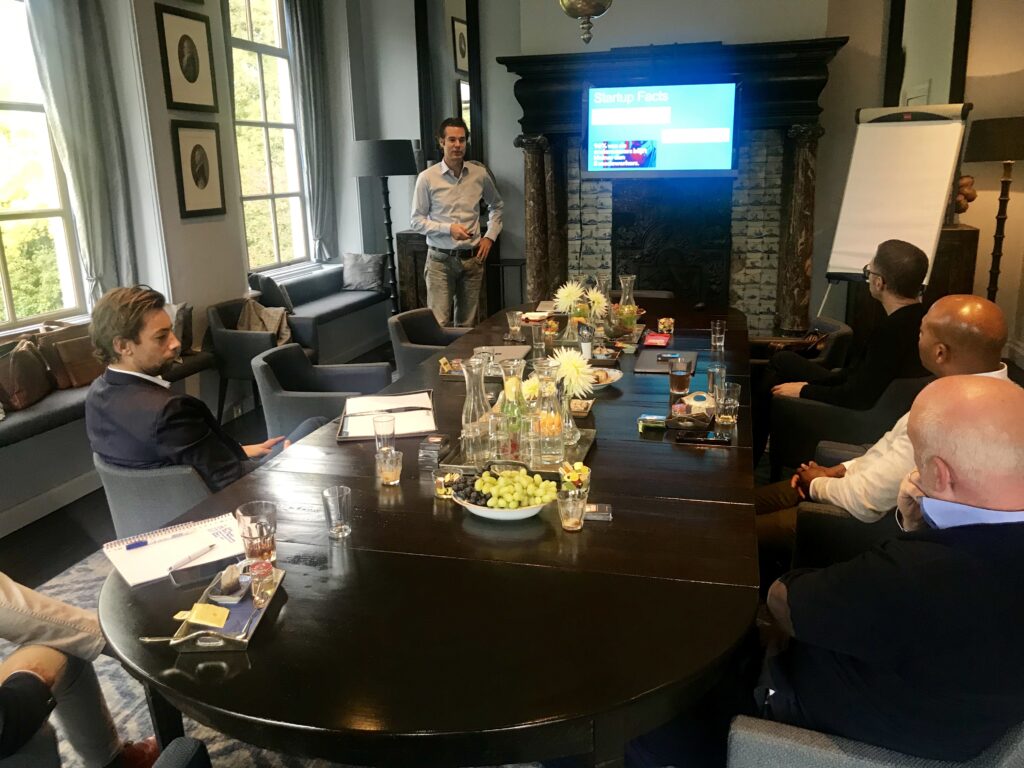 Martijn: Aside from No Monkey Business, I also invest in ventures, such as PSOhub, a project management software.
The reason why I started No Monkey Business was to help educate other entrepreneurs through the tough process of an exit.
I started my first company when I was 18 years old and sold it when I was 45. It's the whole journey from being a small company to gaining a presence in the Netherlands to Europe, then to having a presence worldwide with a reseller network in 25 countries.
It was built from scratch and sold to Unit4, a big IT company with 6,000 employees and around $600 to $700 million in revenue.
The 16-point list
In my journey of both selling my company and buying others, I learned exactly what types of securities the buyers wanted and what they were looking for when they have hundreds and millions of euros to spend.
From that knowledge, I created the 16-point list, and I scored myself with my management team at the time and my shareholders, and the results were suboptimal.
So, we worked on it before we went to the market. We started that plan in 2015 with Plan Assistance Software 2015-2020, and I sold the company in 2017.
What surprised me about the M&A industry is that people have a financial background,  an MBA in most cases, but if I asked any of my advisors, did you ever have a company yourself or build a company from scratch?
I always get the same two answers, no and no. The counter-argument always goes: "If a doctor helps you with cancer, he doesn't have to have cancer himself. 
The truth is, if you were a doctor that went through cancer yourself and beat it, you would be better equipped than most doctors to help that patient because you went through the same turmoil yourself.
"I saw that there was a gap in the M&A industry where there were many advisors focused on only the exit and not the business."
That's pretty logical because most M&A advisors have one goal, and that's the exit. That's the pre-primary goal. My goal was really to help entrepreneurs and I started doing that through volunteering and mentoring companies and scale-ups for free. Then, I decided to create No Monkey Business, to do this at scale.
Interviewer: How do most entrepreneurs react when the deal is sealed?
Martijn: Selling your own company is an emotional process. The day you're no longer needed and everything has been completely transferred is bittersweet. You feel both immense pride from what you've accomplished, and equal disappointment that you're no longer 'needed anymore'. I can understand these emotions well and I love supporting entrepreneurs through this journey.
When you help someone sell their company, you're essentially changing their lives—it's super exciting. Not just from a financial perspective, but a personal and emotional one.
Interviewer: Stellar teams make up the backbone of any successful company. Do you have any optimization tips when it comes to team-building and hiring?
Martijn: I think the most important thing is the chemistry between people, and that's almost more important than the skills. 
It's important that everybody is clear with what their key performance indicators (KPIs) are. As long as people are achieving their objectives, it doesn't matter if they clock in at 9'clock and leave the office by 5. What's important are the results. If you agree on those goals and achieve them, then not only is it great morale-wise for the team, but individually they feel empowered by their abilities.
For individuals, what their personal goals are within the company to achieve the bigger goal — that's the mission. It's important that companies create a company DNA. For example, agree upon a couple of core values.
For example, for PSO we have a couple of core values such as "UX is everything". 
"If your company has a DNA, then you can also recruit people with that same DNA. If you don't have that or if you don't think about it, then it's hard to recruit the right people and to create a team that is really complementary to each other."
Conclusion: Make a Plan for Success
It's evident that selling a company can be a tumultuous and confusing process. Just like operating a company, you can't purely rely on the numbers to make a decision. There are just as many non-monetary factors to consider such as the synergy and strength of the team, the intentions of the new successor of the company, and how to best structure the company for longevity, as opposed to quick revenue.
Much of this involves intuition and experience that's cultivated by those that have actually been in the founder's shoes.
That's why No Monkey Business appears to be revolutionising in that fashion of how deals are being done. It gives founders a peace of mind, more clarity, and more importantly, options. With a network of 6000 buyers, Martijn almost guarantees that the companies he works with will have the ability to be pickier, and go with the deal that best suits the company's long-term mission. Not just the first one at the table.
Through education, love, and tenacity, the team at No Monkey Business aims to be there from the start to the pompous finish and witness the founder cross the finish line with their DREAM EXIT.