Chinese retailer Miniso Group Holding Ltd., whose products range from lifestyle to household goods, raised $608 million on its first day of trading at the New York Stock Exchange.
Miniso in its Wall Street Initial Public Offering was initially looking to raise over $560 million in its first day of trading and surpassed its earlier target.
The Guangzhou-based company on October 15 announced the pricing of some 30,400,000 American Depositary Shares at an IPO price of $20 per share.
The company under the ticker MNSO began trading on Thursday (October 15) in a statement released to the media. Pricing of American Depositary Shares per piece is well above the earlier estimates of $16.50 to $18.50 per share.
The Chinese company's stocks opened at $24.40 and capped the day with shares up nearly 12% at $22.33 apiece.
Miniso is just one among many Chinese companies braving to conduct IPOs in the United States despite ongoing trade tensions between the US and China.
The US stock markets remain an attractive place for IPOs for many Chinese companies amid tensions in trade and technology including Miniso's backer Tencent which saw its WeChat application banned by the US government last month.
Chinese technology giant Tencent owns a significant stake in Miniso but the majority of the shares are owned by company founder Ye Guofu, who currently owns an 80% stake in the retail company.
Ye Guofu is also set to become a billionaire following Thursday's Wall Street listing with a net worth of about $4 billion. He will also own 65% of Miniso following the IPO.
Miniso to expand with more stores
In an interview by the Associated Press, Ye said they chose to conduct an IPO in the US instead of Hong Kong's stock exchange or Shanghai's STAR Market because many global companies have continued to be listed on Wall Street.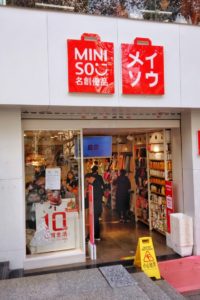 As Miniso aims to expand its market globally, Ye said it is only apt for them to set their sights not only in Asia but in other regions as well.
The Chinese consumer goods retailer, whose fierce competitor include Japan's Muji, Daiso, and Uniqlo, has been selling consumer and household products like stationery, cosmetics, snacks, fragrances, accessories, household supplies, and small consumer electronics.
Since Ye founded the company, it has expanded to over 80 countries in Asia, Europe, Oceania, Africa, North America, and South America with over 4,200 stores worldwide with a Gross Market Value of 19 billion yuan ($2.8 billion). There are currently 2,500 Miniso stores in China and over 1,680 stores in other countries and regions.
Since it was founded in 2013, the company which is patterned after Japanese brick-and-mortar novelties stores have reported revenue amounting to $1.3 billion ending June 30.
Miniso has also collaborated with world-famous brands including Coca-Cola, Marvel, Hello Kitty, Sesame Street, Mickey and Minnie, Pink Panther, We Bare Bears, and Beijing's Palace Museum.
In their registration statement at the US Securities and Exchange Commission, Miniso disclosed their financial report which showed revenue decreasing by 4.4% from 9.3 billion Yuan ending June 30. Gross profit, however, increased by 8.8 percent to $386.8 million.
The decline in earnings in the first half of the year is mostly blamed on the coronavirus pandemic which saw many of Miniso's stores closed due to lockdowns.
However, Ye remains optimistic the retail market will pick up by the end of the year as stores reopen. Miniso also plans to use the IPO proceeds to expand its logistics network and open new stores.
Goldman Sachs (Asia) L.L.C. and BofA Securities, Inc. acted as joint book-runners and underwriter representatives for the initial public offering.
---
Read More Stories: Goldman Sachs Reports Strong Profits for the Third Quarter of 2020