Tesla and SpaceX CEO Elon Musk has decided not to take a seat on the board of Twitter after becoming the social media company's biggest shareholder earlier this month.
Twitter CEO Parag Agrawal made the announcement on Sunday as Musk's appointment to the board was to become effective on Saturday and would have prevented him from being a beneficial owner of more than 14.9% of common stock.
"Elon's appointment to the board was to become officially effective on 4/9, but Elon shared that same morning that he would not be joining the board," Agrawal said.
"I believe this is for the best," Agrawal adds "We have and will always value input from our shareholders whether they are on our Board or not."
However, Agrawal said that Musk is still the largest shareholder of Twitter, and the company will remain open to his input.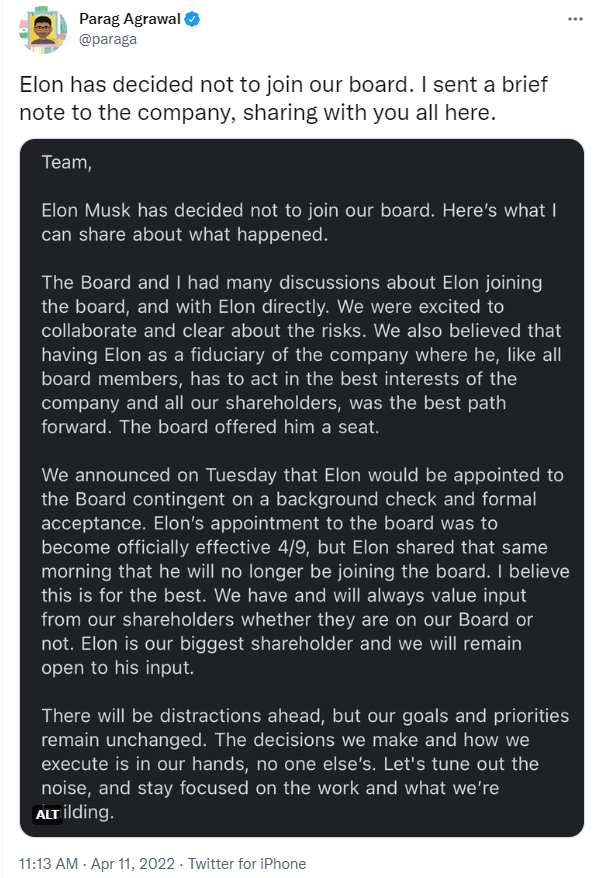 Musk's Twitter answer was restricted to a face with a hand-over-mouth emoji which was eventually deleted from the social platform.
Musk earlier disclosed before the SEC taking a 9.2% stake or close to $3billion worth of shares on April 4. This represents some 73,486,938 shares of Twitter ahead of investors Vanguard, Morgan Stanley, and BlackRock.
The world's richest man in an earlier report also said he plans to bring about significant improvements in the social media platform.
It's not clear, however, why Musk decided not to join Twitter's board, especially since he seemed to be hinting and suggesting a lot of ideas on how to improve the social media network.
Musk earlier proposed improvements to Twitter Blue's premium membership service over the weekend, including lowering the price, prohibiting advertising, and allowing users to pay in the cryptocurrency dogecoin.
Meanwhile, stocks of Twitter slipped in premarket trading Monday. CNBC reports that the company's shares tumbled more than 8% to less than $43 a share at 4 a.m. ET before recovering slightly. At 8 a.m. ET, the shares were down 2.66% at $45.