Tech giant Twitter saw an unprecedented security breach on 15th July with 130 Twitter accounts hacked by Bitcoin scammers.
Hackers allegedly took over the control of some verified Twitter accounts such as Tesla CEO Elon Musk, President Barack Obama, Presidential Candidate Joe Biden, Amazon CEO Jeff Bezos, New York Mayor Michael Bloomberg and many others.
The intention was to use the accounts to create a Bitcoin scam. The scammers used the prominent accounts to tweet messages like "I am giving back to the community" and "I will send back $2,000."
Followers reacted immediately by sending Bitcoins. As a result, BTC wallet tracked 383 transactions in one of the digital wallet used by the hackers in just 24 hours. Unfortunately, Hackers transferred around $117,000 before anything can be done.
Who's Behind the Hacked Twitter Accounts?
It's difficult to trace back the hackers since most of the Bitcoins have been transferred from the wallets. In fact, Cryptocurrencies are hard to track when they are transferred into smaller accounts.
However, there is evidence that few Sim-Swap hackers could be responsible for the breach. Sim-swappers are generally known for stealing the mobile identity of the victims.
So far, trails can be found hackers using employee accounts to gain access inside the Twitter administrative tools.
"A coordinated social engineering attack by people who successfully targeted some of our employees with access to internal systems and tools. We know they used this access to take control of many highly-visible (including verified) accounts and Tweet on their behalf. We're looking into what other malicious activity they may have conducted or information they may have accessed and will share more here as we have it." -A statement from Twitter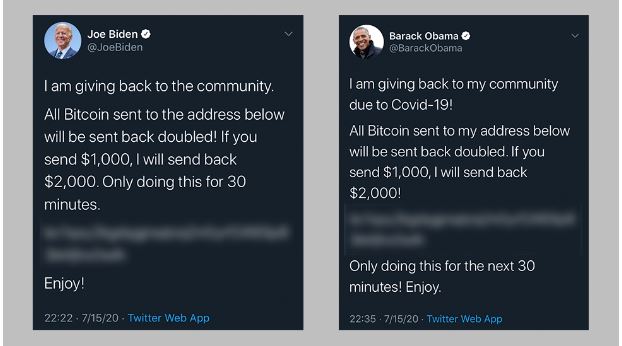 An Ongoing Investigation
Currently, the FBI is investigating the matter and Twitter declared that they will post any updates as soon as possible. But as the tension rising inside the tech community for this awkward situation, Twitter must ensure that such events never happen in the future.