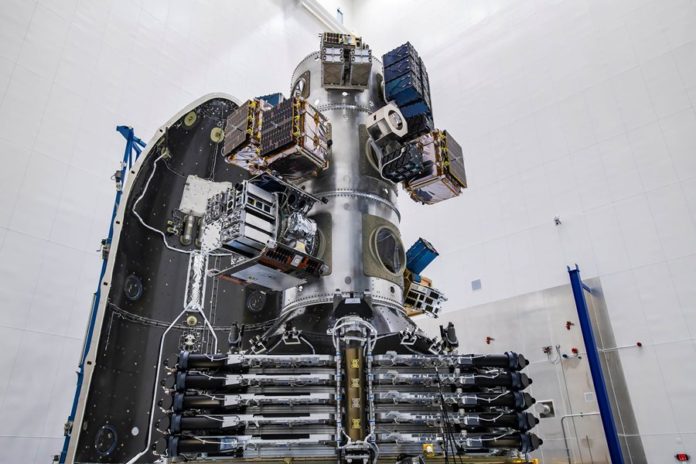 SpaceX launched a batch of 143 spacecraft into orbit on Sunday morning smashing records for the largest number of spacecraft launched in a single mission.
The Falcon 9 rocket lifted off as part of the Transporter-1 mission, which the company's founder Elon Musk earlier unveiled in 2019 as part of the cost-cutting SmallSat Rideshare Program which resembles a batch transport of small satellites.
The 143 satellites sent into orbit consist of 133 commercial and government customer vehicles and 10 Starlink machines.
Watch the Transporter-1 Mission Launch HERE.
San Francisco-based Planet Labs was among the companies that availed the ride-sharing space mission by sending 38 SuperDove spacecraft for Earth observation and imaging. The additional spacecraft take Planet's operational fleet now in orbit to more than 200 satellites.
The launch was the first in of the SmallSat Rideshare Program that is designed to launch many satellites at a time and enable organizations to reach space at a lower cost. The program also offers affordable access to space for small satellite companies starting at $1 million for 200 kilograms with additional mass at $5000 per kilogram.
Sunday morning's successful launch of the Falcon 9 rocket, which also the Crew Dragon Demo-2, landed aboard a drone ship in the Atlantic after a first try yesterday was canceled due to bad weather.
The launch according to The Verge is SpaceX's third mission this year and marks the most satellites carried to space on a single rocket, a record previously held by an Indian satellite launch in 2017 carrying 104 satellites.
SpaceX's rideshare mission provides increased access to space for small satellite operators seeking a reliable, affordable ride to orbit. With SpaceX's successful mission, and with packages to orbit for just a million dollars, it is expected that there will be an upswing of commercial launches in the coming years.
Aside from commercial and government satellites the launch also includes SpaceX's 10 satellites which fortify its Starlink telecommunications mega-constellation program expected to deliver broadband internet connections around the globe. The 10 Starlink satellites launched Sunday will be the first in the constellation program to deploy to a polar orbit.
Other payloads of the SpaceX mission also include those of Swarm Technologies called SpaceBees, the BBC reports. Which have dimensions of 10cm by 10cm by 2.5cm. The small spacecraft or SpaceBees will act as telecommunications nodes to connect devices that are attached to all manner of objects on the ground.
Radar satellites were also among those ferried in SpaceX's ride-share program. While these space crafts were considered bulk loads in the past, recent advancement in space technologies has reduced their sizes in the size of carry-on luggage. Costs in making these radar satellites have also reduced in past years making it easier for companies and governments to regularly send these satellites into orbit.
---
Read More Stories: PM Johnson says Covid Variant 'More Deadly' than Original Strain