Modern hospitals and clinics strive to gain high-end digital solutions to perform complex operations and ensure exceptional care. They closely cooperate with leading software providers to build efficient apps for various purposes. However, the abundance of IT companies may puzzle owners of medical institutions. How do you choose the right tech partner? Which company can implement your idea most efficiently?
You can answer these and similar questions by carrying out thorough research. But this is time-consuming. Turn to such reliable sources as Clutch instead. They gather information on top healthcare software development companies, collect authentic customer reviews, and offer valuable and trustworthy B2B ratings. We have used this resource to assess the current situation in the medical software market and prepared our top 10. Pay attention to the following IT providers.
Andersen
Andersen offers development services in various industries and has already earned a reputation for profound expertise and quality. One of its key activities is building robust, innovative solutions for the medical sector. Over 300 healthcare engineers are ready to implement programs of any complexity. They have already completed over 150 successful projects. The company has a healthcare advisory board, including over 30 researchers and practicing doctors from Europe and the USA. In-house experts also give valuable insights into medicine, the latest research, and major trends in the whole industry.
With 4.9 stars out of 5 and 97 customer reviews, Andersen is one of the most-rated medical software companies in the UK. In her Clutch feedback, Iselin Frøybu, Emovo Care SA Co-Founder and COO, mentions the exceptional work of Andersen's designers. The clickable prototype and user personas they built were highly efficient, so the outcome topped all expectations.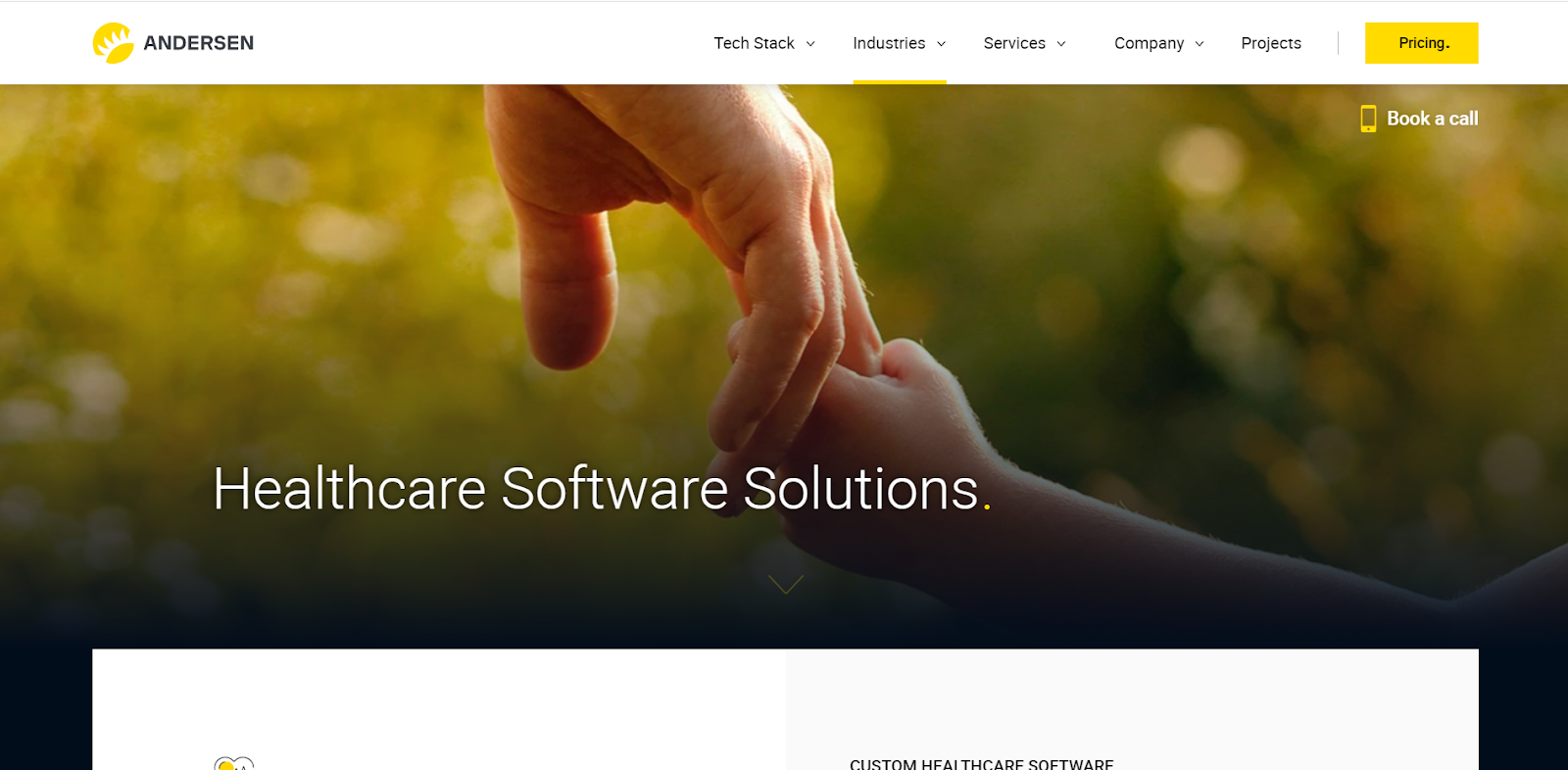 Simform
This Orlando-based company was established in 2010. Simform's professionals are flexible and work according to the Agile methodology. The software developer also operates in several industries, with medicine as one of its primary areas. The firm covers all stages of the development process, from a free consultation to maintenance and support.
Simform prefers a creative approach to healthcare software development. Take, for example, a solution for the pharmaceutical industry: an analytics platform collects huge amounts of raw tweets, analyzes this data, and converts it into valuable insights. Thus, pharmaceutical companies save time and get relevant information.
Gary Boyd of Fitcom Inc. gladly shares his positive impressions about the technical knowledge of Simform's experts and their willingness to find the optimal solution for a business. Currently, the company has an impressive 5-star rating on Clutch, which is evidence of high-quality services and immaculate workflow and the reason it has entered our list of top healthcare software development companies.
10Clouds
10Clouds is based in Warsaw, Poland. Since 2009, the company has been transforming the boldest business ideas into innovative digital products. Its key focus is blockchain, product development, design, DevOps, and MLOps. The team includes over 200 technical experts who possess relevant industry knowledge. They use Flutter, Django, ReactJS, and other innovative technologies.
Although healthcare software development is just part of the company's activities, apps built by 10Clouds are in great demand. For example, Ukrainian nationals have been actively using an extremely efficient mental health support platform since the beginning of the war.
The company's key clients are Forbes, Crescent, Aleph Zero, and others. 70 positive reviews prove the fact that 10Clouds' services enjoy high demand in the digital market. 4.9 stars confirm that the firm has already gained customer trust.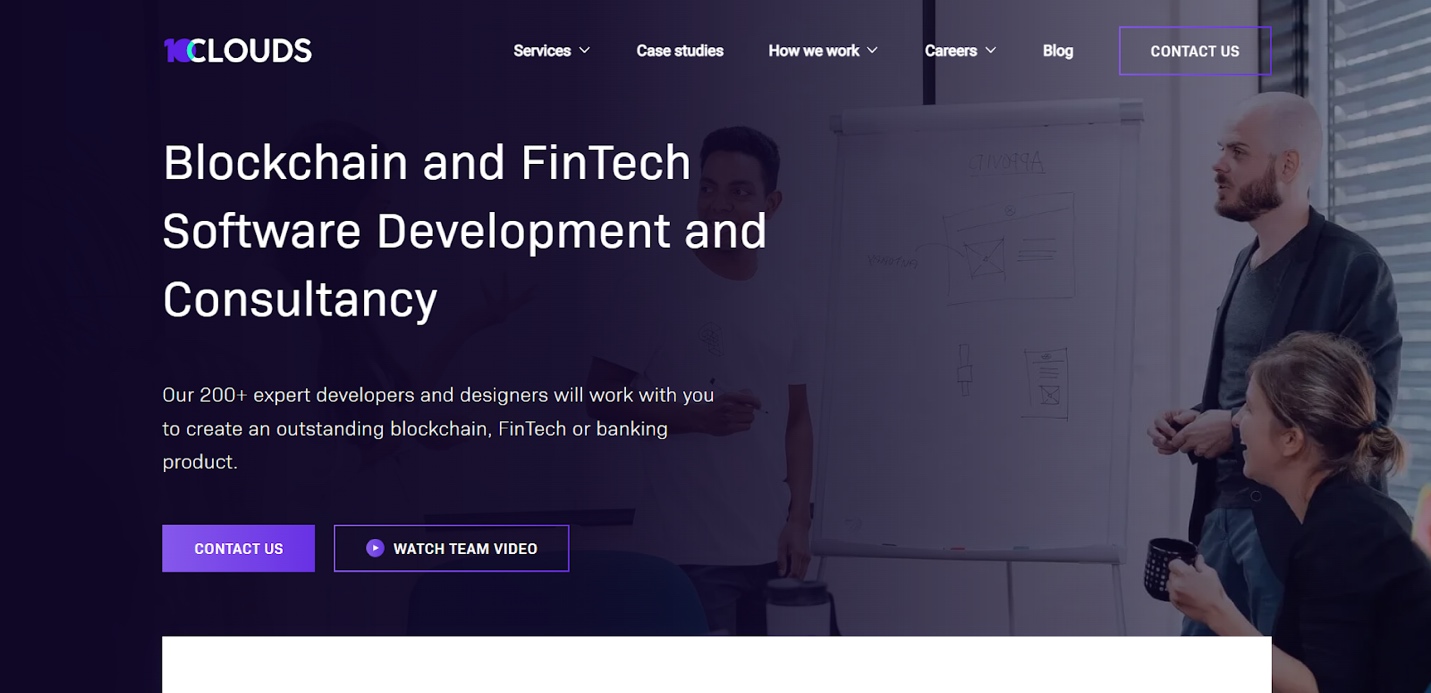 Brainhub
Since 2014, Brainhub has been consulting customers in various industries and helping them undergo digital transformation most efficiently. It has already delivered many cost-efficient and easily scalable tailor-made apps. Healthcare software solutions constitute a significant part of its outcome.
The firm's employees are driven by the desire to blaze a new trail in the digital world. Their passion, creative approach, and commitment have paid off. Grateful clients and end-users enjoy their products and recommend them to others.
Brainhub's employees want to become the no. 1 JavaScript company in the world. Sounds challenging in the competition-driven society, right? But these highly skilled professionals can easily achieve this: the products they offer are lasting, robust, and aesthetically pleasing.
STX Next
The medical software developer is based in Poland and has over 600 experienced tech experts. Specialists carry out such services as QA, product design, data engineering, etc. STX Next boasts to be Europe's largest Python software development company. Its employees have mastered this popular programming language and are ready to use their skills on challenging projects. The company's blog offers visitors valuable insights into Python.
Developers take their tasks seriously and start the process with a thorough analysis of their clients' business requirements. If you want to extend your team, order end-to-end development services, or need a consultation, highly qualified medical software engineers will gladly help you with these.
The firm cooperates with businesses from various corners of the world. Western Europe, the USA, Canada, Australia, and the Middle East—the geography of projects is impressive. So is the number of positive reviews on Clutch. You may read 77 pieces of feedback mentioning the employee's knowledge, expertise, and excellent communication skills.
TekRevol
Since 2018, this Silicon Valley custom healthcare software development company has been building state-of-the-art healthcare apps for leading medical organizations. The company creates apps for RPM and HL7 services, wellness & fitness, telemedicine, emergency response, e-Prescribing, etc. It uses the power of AI to implement the most efficient voice assistants. The solutions are scalable and customizable, they can meet the requirements of any healthcare provider.
TekRevol's team sees customer satisfaction as one of its top priorities. Experts strive to offer solutions that will help clients save money and time.
The company cooperates with various facilities, including hospitals, government health institutions, and pharmacies. The University of California SF, the University of Toronto, Oz Leasing, and the Arrow Recovery Group are among its clients. Partners have given TekRevol 4.9 stars and 59 favorable reviews on Clutch.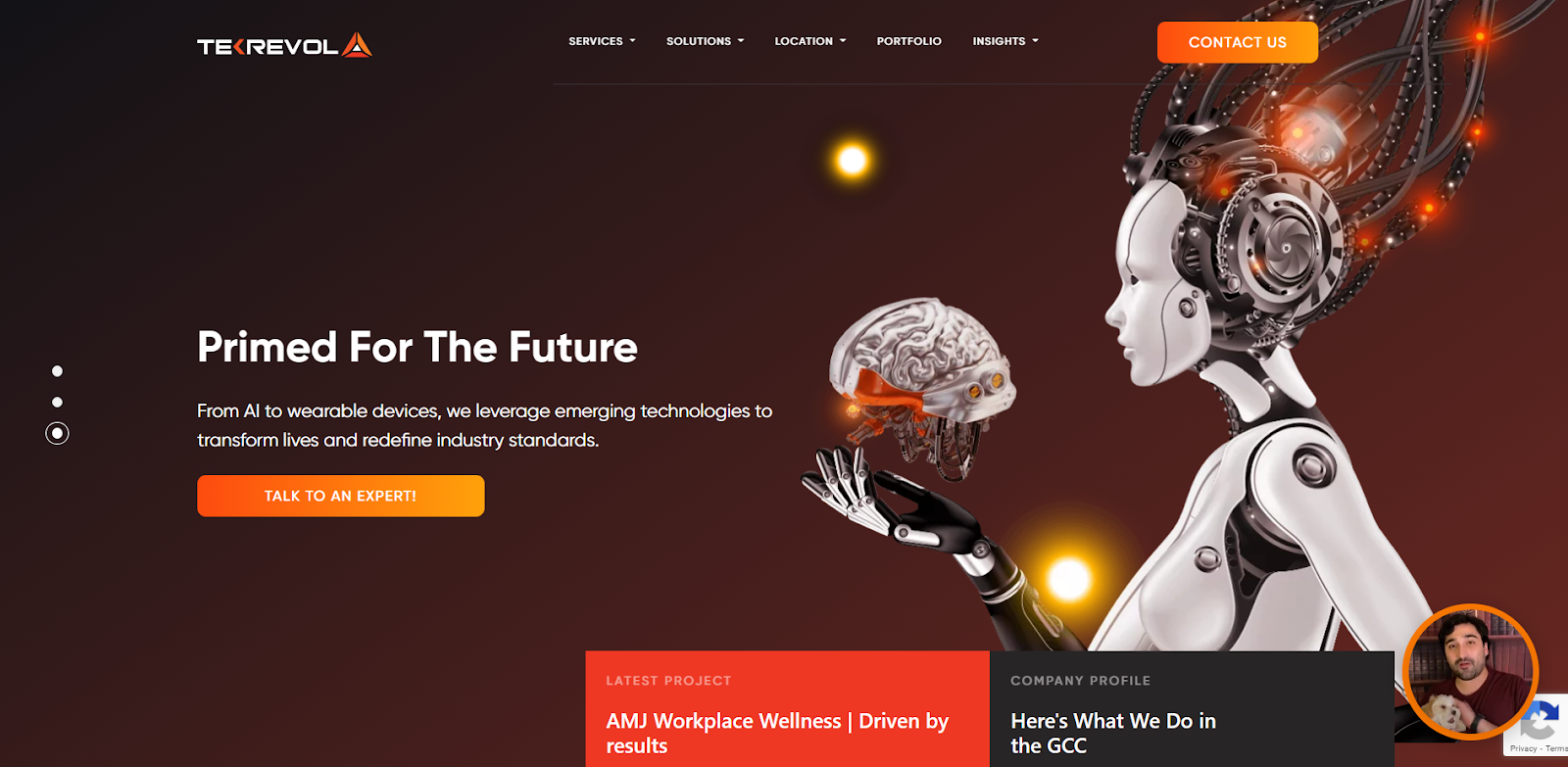 Miquido
This Google-certified agency has been active since 2011 and has already made a name with its exceptional digital products. Miquido works with businesses from various industries, and medical software development is one of its primary areas of expertise.
The development team emphasizes safety and builds custom solutions in compliance with the latest industry regulations. The company's experts working on healthcare projects have mastered such technologies as Node.JS, Angular, React Native, Java, and others.
Miquido offers highly innovative medical solutions, for example, Physio. This next-generation tool improves the quality of life of people suffering from neuromuscular disorders. Although their conditions are incurable, they can significantly reduce pain through exercise. Useful instructional videos help patients with this.
Miquido has 43 positive reviews and 4.9 out of 5 stars on Clutch, proving its serious approach to software development.
Orases
Orases was founded in 2000, and currently, it is one of the pioneers of custom healthcare software development. For over two decades, it has been building top-notch custom software. The provider has already implemented more than 650 programs, and 8 out of 10 projects come from referrals. HIPAA-compliant apps built by the company's developers help healthcare facilities enhance the quality of services, establish strong doctor-patient relationships, and introduce efficient tools in the clinical workflow.
Orases has the highest possible rating on Clutch—5 out of 5 stars. 55 reviewers mention various advantages of this software developer, there are several pieces of feedback on their health apps. For example, Becky Clawson, the owner of a vet clinic, compares the company to a smooth, well-oiled machine. Shannon Aleshire confirms such remarkable stability and says that Orases's employees never miss deadlines.
Experion Technologies
This award-winning American healthcare software developer has been delivering high-quality products since 2006. If you are struggling with outdated legacy systems, Experion Technologies can help you carry out digital transformation effortlessly. The team builds tailor-made solutions that improve medical workflows and enhance the patient experience around the world.
Developers deliver high-quality telehealth, interoperability, behavioral health, reengineering/modernization solutions, and other products relevant to the medical industry. One of Experion's success stories is an mHealth platform for a European NGO. It allows end-users to control their conditions much more efficiently and thus improve the overall state of health.
Experion Technologies cooperates with over 350 businesses all over the world. Among its key clients in the healthcare industry are AstraZeneca, Guardian Health, Instahealth, Alexion Pharmaceuticals, and others.
Emergent Software
Emergent Software was founded in 2015. The company carries out versatile projects in such industries as hospitality & leisure, manufacturing, finance, and retail. Healthcare software product development is an important field as well. Talented full-stack developers, designers, and other tech experts provide consulting services, help businesses ideate products, and build and support apps.
Thus, Electromed asked the software provider to redesign Brightree, their business management system. The employees considered the client's requirements and needs, quickly fixed all bugs, and carried out all relevant tasks. Logan Deopere, a representative of Electromed, mentions developers' responsiveness and integrity.
Other positive reviews on Clutch say: should a customer have any difficulties understanding how a product works, the company's experts provide simple explanations and ensure high-quality maintenance.
Conclusion
When building medical apps, finding a reliable tech partner is a key to success. Any of the top 10 healthcare software development companies mentioned above will help you deliver innovative software solutions and revolutionize medicine. Visit their websites for more details, relevant case studies, and customer reviews. By comparing their services, you will find the right provider and turn your idea into an innovative app.