A two-story house was 3D printed at Kamp C, the provincial center for sustainability and innovation in construction, in Westerlo, Belgium, using the largest 3D concrete printer available. The house, part of the C3PO project, has an area of ​​ninety square meters and was 3D printed in one piece with a fixed printer. It's the first such project in the world.
The 980 square feet structure that consists of several sustainable features such as solar panels and underfloor heating, is not meant for residential purposes.
While 3D-printed houses are not new, what sets this one apart is that it has two floors, reported Digitalprints.com.
"What makes this house so unique, is that we printed it with a fixed 3D concrete printer", says Emiel Ascione, the project manager at Kamp C. "Other houses that were printed around the world only have one floor. In many cases, the components were printed in a factory and were assembled on-site. We, however, printed the entire building envelope in one piece on site."
The enormous gantry printer, measuring 32 feet x 32 feet, was used to print the shell of the house. Additional features such as the roof and windows were then added the old-fashioned way. It boasts numerous innovative sustainable features, including solar panels and underfloor heating.
The printed house is three times stronger than a high-speed brick house. "The compressive strength of the material is three times higher than the classic quick-build brick," explained field manager Marijke Aerts C. This first house is a test building and will be examined to confirm that this strength can be maintained over time.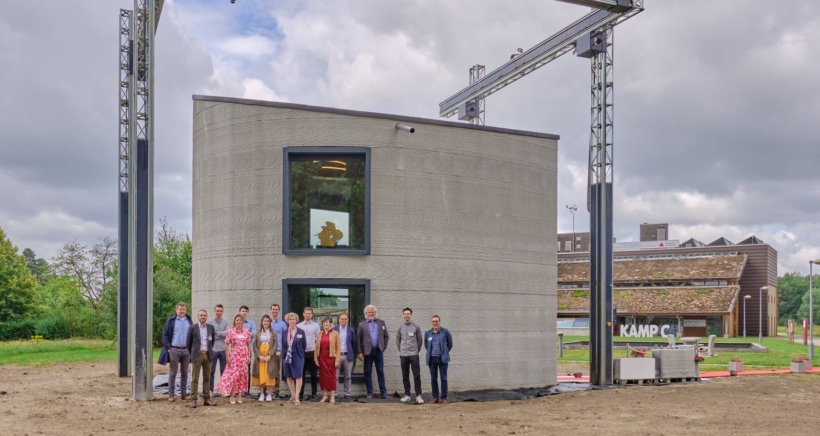 In addition to fibers contained in the concrete, only minimal shrinkage reinforcement was used. The printing technique makes concrete formwork unnecessary. This saves about sixty percent of material, time and money. For example, a house could be printed in two days in the future. If you add up every day of printing, the house at Kamp C was printed in just three weeks.
The fact that a house can now be 3D printed doesn't mean that construction workers will be out of work anytime soon, according to the VRT. It is a complement to human work and in fact creates new jobs, such as programming and deciding on the composition of the material to be used.
It's too early to tell if the Flemish construction industry will warm to the use of 3D printing technology in residential building and other applications although it has garnered an international reputation for embracing circular, low-waste methods.