Two leading Australian reporters in China are removed from the country amid a diplomatic standoff, according to the top news sources reported Tuesday.
The standoff started when Bill Birtles, Beijing correspondent for the Australian Broadcasting Corporation (ABC), and Mike Smith, Shanghai correspondent for the Australian Financial Review (AFR) were questioned separately by China's Ministry of State Security.
The reporters immediately asked shelter from the Australian embassy in Beijing and Shanghai consulate. Australian diplomats had to negotiate with the Chinese officials to allow the correspondents to leave the country, according to AFR.
The government of Australia advised the Australian Broadcasting Corporation (ABC) to remove the correspondents from China before the diplomatic tensions arose.
More Stories: China Might Introduce Driverless Automobile Called Robotaxis in 2023
More Stories: How Japanese Engineers Building Hurricane Resistant Wind Turbines
A 5-day Diplomatic Standoff
According to ABC, Birtles was hosting his farewell drink when Chinese authorities visited him and said that he was banned from leaving the country. Birtles was also called for questioning over a "national security case."
Mike Smith was also questioned over the same issue. This led both the correspondents to sought shelter in Australian missions. Canberra quickly responded to the situation by negotiating with Beijing for a safe return of the reporters.
However, the diplomatic negotiation between the two countries took 5-days. The two reporters were finally sent back to Sydney after the two country diplomats came to a resolution on the incident.
Canberra Advised China Correspondents to Stay Home
Australian authority asked the Australian newspaper Tuesday to keep the China Correspondent Will Glasgow at home amid the diplomatic tensions.
Glasgow reacted on the matter and tweeted, "So here's why I didn't board my China Southern flight to Guangzhou last Sunday. First Cheng Lei, now this."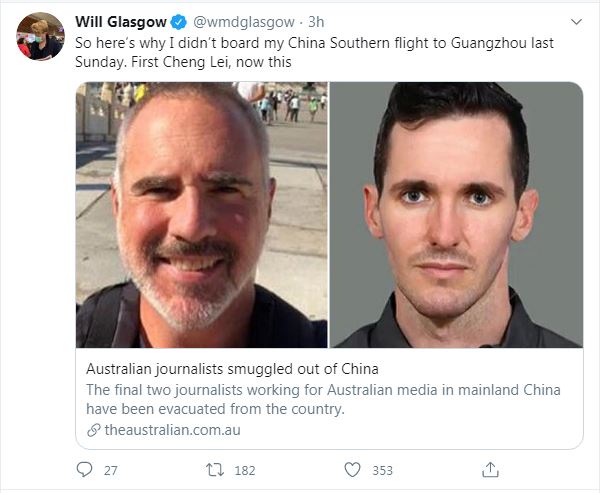 Birtles responded after the event it was "very disappointing to have to leave under those circumstances. It's a relief to be back in a country with genuine rule of law," he added. "This was a whirlwind and not particularly good experience."
Australian foreign affairs minister Marise Payne stated that the government "provided consular support to two Australian journalists in China to assist their return to Australia."
Unfortunately, no statement from Beijing was reported as the tensions between the two countries increased in the aftermath of the event.
---
Read More: Why the U.S Real Estate Market is facing a Great Reshuffling?