A Chinese official recently confirmed that prominent Australian news anchor Cheng Lei is facing an investigation based on "national security grounds" and was placed under residential surveillance in a still undisclosed location.
Chinese Foreign Ministry spokesman Zhao Lijian on Monday said the government has taken "compulsory measures" and detained Cheng Lei based on alleged criminal activity endangering China's national security."
Cheng Lei, the veteran news presenter at the state-run English broadcaster China Global Television Network, has not been seen for weeks and suddenly disappeared from her regular shows as well as ceased to make contact with friends and family.
The 45-year-old broadcaster's company profile and interviews were also wiped from state-run CGTN's website.
On August 31, Australian Foreign Minister Marise Payne said they were informed that the Australian citizen, Ms. Cheng has been detained in China but has not disclosed on which charge the prominent journalist has been arrested.
In a statement, Payne said formal notification was received on August 14 from the Chinese authorities of her detention.
Australian officials said they had an initial consular visit with Cheng at a detention facility via video link on August 27 and will continue to provide assistance and support to her and her family.
The arrest of the female broadcaster has raised an alarm among foreign journalists amidst growing diplomatic tensions between Beijing and Canberra as the Australian government launches a probe into China's alleged involvement in the spread of the coronavirus pandemic.
Australian journalists were flown out of China
On Tuesday, two Australian journalists were pulled out by their media companies from China after they were called for questioning by Beijing authorities amid heightened tensions between the two countries.
Australian Broadcasting Corporation's Bill Birtles and the Australian Financial Review's Mike Smith landed safely in Sydney on Tuesday.
The ABC reported that Birtles was hosting farewell drinks when the police visited his apartment and told him he was banned from leaving the country. Birtles was also told he would be called in the following day for questioning over a "national security case." ABC did not further disclose what Birtles was questioned about but journalists said it is related to the current investigations of detained broadcaster Cheng Lei.
Both journalists sought refuge in Australian diplomatic missions and the consular office in Beijing and Shanghai as Australian government officials negotiated with Chinese officials to allow them to leave the country. The standoff lasted five days before the travel bans were lifted and the journalists were able to fly back to Sydney.
Australian foreign affairs minister Payne said in a statement that the government "provided consular support to two Australian journalists in China to assist their return to Australia."
Payne said the Australian Embassy in Beijing and Consulate-General in Shanghai engaged with Chinese government authorities to ensure the wellbeing and return of the two journalists to Australia.
The Australian Foreign Ministry said their current travel advice for China, which was updated on July 7, remains appropriate and unchanged.
"We encourage all Australians who are overseas, or are seeking to travel, to closely monitor Smartraveller," she said.
She also said the Australian Government continues to provide consular support to Australian citizens detained in China, including Cheng Lei but said they "are unable to provide further comment owing to privacy obligations."
Birtles told ABC on Tuesday that it is "a relief to be back in a country with genuine rule of law."
Smith, meanwhile, said that the visits by Chinese authorities to his and Birtles' apartments felt "very political."
"It was a very tense few days," Smith said of his time spent within the Australian consulate in Shanghai. He added that he and Birtles were allowed to leave China on the condition that they allowed themselves to be interviewed by China's Ministry of State Security about Cheng Lei.
China tightens entry of foreign journalists
Several media outlets including the New York Times and CNN reported that the US State Department alleges that the Chinese Foreign Ministry had recently told the US Embassy in Beijing that it was denying press card renewals to US journalists in China.
But Foreign Ministry spokesperson Zhao Lijian in Monday's press briefing Zhao Lijian denied it was denying press card renewals to American journalists saying there "has no truth in it at all and is meant to confound the public."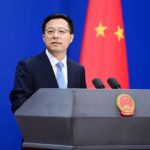 "The fact is that the press card renewals for CNN and other US media journalists are being processed. Before they get the renewal, their reporting and life in China will not be affected in any way. We've already told this fact to the US side," Zhao said.
According to the Chinese official,  that over some time, the US has launched one round of political suppression after another against Chinese media, reaching 'a state of hysteria.'
"Since 2018, the US has delayed and even denied visas of 30 US-based Chinese journalists, forced some Chinese media outlets to register as "foreign agents" and "foreign missions", in effect expelled 60 Chinese journalists, and limited visas for all Chinese journalists to a maximum 90-day stay."
1. The US is ignoring basic facts and blaming others while the US is to be blamed for the visa problem journalists face. It is the US that has been escalating political repression of Chinese news outlets. pic.twitter.com/oI54tAk8HC

— Lijian Zhao 赵立坚 (@zlj517) September 7, 2020
He also accused Washington of having 'double-standards' when it also did the same thing to Chinese journalists.
"The US has treated Chinese media in a discriminatory manner and even gone so far as to take the journalists as hostages to pressure the Chinese side. This fully reveals the hypocrisy of its so-called freedom of the press and is double-standards and hegemony at full display," he said.
---
Read More: European Commission seeks coordination of Covid-19 movement restrictions in EU